[VIDEO] See images of  the play area (time lapse)
The Alma Shopping Centre in Coimbra in the central west part of Portugal wanted to continue its restoration process, explore new ways to increase attractiveness and stand out from other similar centres.
Creation of a spectacular play area installed inside the shopping arcade was the option chosen to meet these objectives. The project was assigned to Proludic for creation and installation.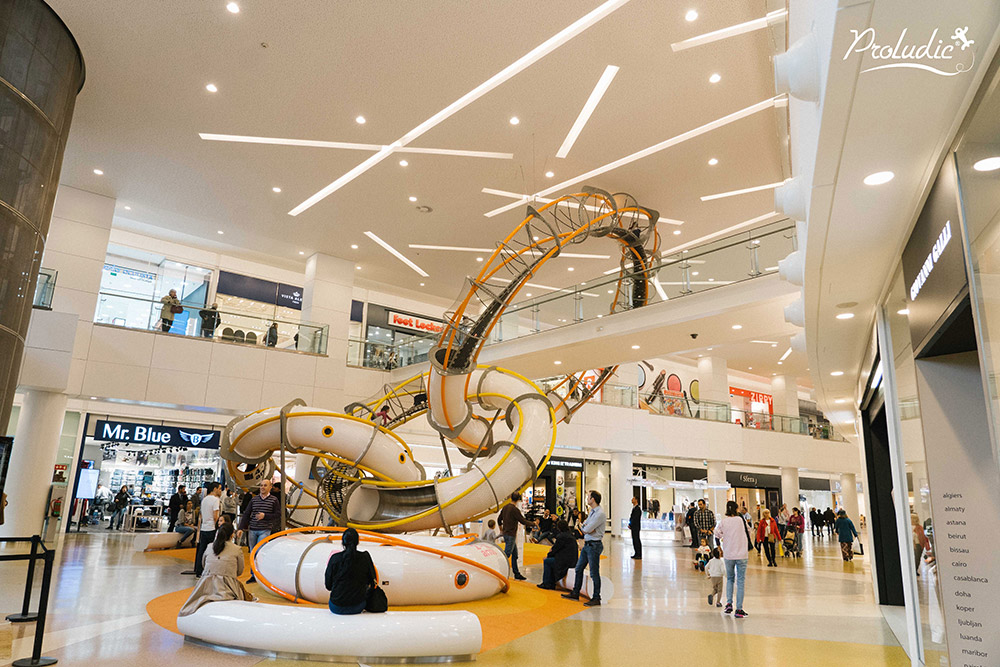 The play area has a surface area of 190 m² and comprises 4 painted steel rings, of which 3 are interlocked vertically and 1 stands alone on the ground. Each ring is a play space in itself with many fun activities inside and intended for children in a specific age range.
The very special feature of this play area is that it integrates perfectly into the structure of the shopping centre: the most spectacular ring, starting at 3.50 m above the ground and reaching almost 10 m in height, encircles one of the centre's main foot bridges. The play space therefore links the two floors of the Alma Shopping Centre creating genuine interaction between the site's commercial offer and deployment of the site's leisure offer.
Creation of this unusual and ambitious play space showcases the remarkable expertise of the Proludic teams.
The play space was opened at the end of 2019.