#COVID-19
Proludic is here to help you reopen your play areas!
During lockdown, your play areas were closed and their audience missed them. Today, they have high expectations to get back to them soon. However, you are facing significant health challenges to allow children to enjoy playing again in complete safety.
Here is some advice on how to reopen your play areas safely and put smiles back on children's faces as they play.
Please note : Proludic's recommendations are provided to help you. They are a complement to the health guidelines provided by national, regional and local authorities.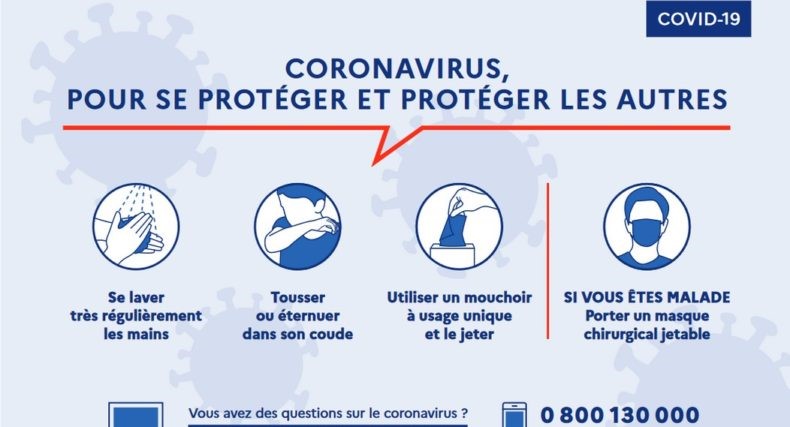 Visit the website : https://www.gouvernement.fr/info-coronavirus
Cleaning & Disinfection
After a long closure, it is essential and necessary to carry out a thorough cleaning and inspection of the play area before it reopens. Your play areas and sports facilities need weekly cleaning and maintenance.
How should this be done ? Start by inspecting the equipment to make sure that it is in good working order. If it is not, make the necessary adjustments and, if needed, close access to the equipment. Next, clean the different play and sports structures.
For more detailed information about the servicing and maintenance of your Proludic products, please consult our maintenance guide.
Need help ? Proludic's Maintenance and Service technicians can assist.
Contact:

Jean-François Dury
Service/Maintenance Technical Sales Representative
Phone : +33 6 70 40 35 58
Email: jfdury@proludic.fr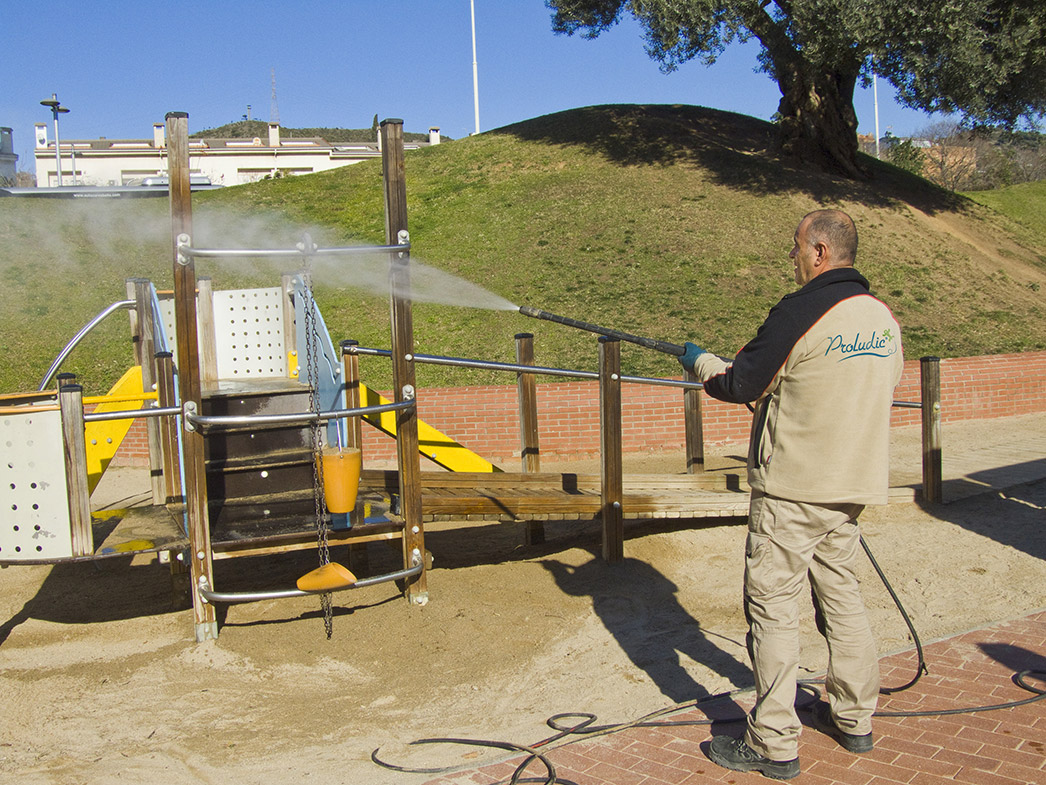 Would you like to disinfect your play areas ?
The materials used in your Proludic equipment are resistant to the chemicals and cleaning products used for virucidal disinfection.

Coloured panels: compact laminate
The hard, non-porous surface of our HPL laminate provides excellent chemical resistance (according to standard EN 438).

Stainless steel tubes
They are naturally resistant to chemicals thanks to a thin layer of chromium oxide.

Plastic parts
Only use standard disinfectant products that have been diluted (prefer products with a ph below 11). Do not use detergents or products that combine disinfectants and detergent.
You may use your disinfectants without fear of damaging the Proludic equipment used in your play areas.
What areas should be disinfected ? Use disinfectant products on handrails, climbing panels and, generally, all elements that can be gripped.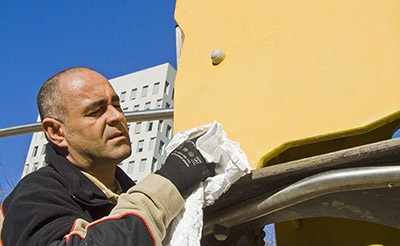 Please note : please contact a competent professional to determine the which disinfectant products are appropriate for use and how to use them. Be careful and always follow the instructions for use provided by the manufacturer of the product you have chosen.
Information for users
Play is essential for children's physical, intellectual and social development. As they return to their favourite play areas, children will rediscover the pleasure of play, which leads them to participate in physical activity, challenges, and sharing and lets them experience a complete range of emotions.
To ensure that this return to the play takes place in complete safety, we recommend that you remind parents that :
the use of the play equipment is under their responsibility,
compliance with the health regulations in force is essential.
7 key practices to adopt in your play areas
To ensure optimal health and safety when using the play area, special measures must be taken.
1/ Follow the instructions
Follow national recommendations to protect yourself and others.
2/ Take turns
During busy periods, the accompanying persons should make sure that the equipment is made available for other children after 10 minutes of use. Children must learn to play first on equipment that is not in use and be patient.
3/ Flow of movement
To avoid contact and to ensure that safety distances are respected, the foot traffic should move clockwise.
4/ Safety distances
As recommended, everyone present in the play area or sports facilities, adults and children alike, must stay at least 1 metre away from others.
5/ Hygiene measures
Disinfect hands before and after using equipment.
6/ Public facilities
Remind those who visit your play areas to use caution, because the toilets and drinking fountains may be closed.
7/ Group games/Personal belongings
To avoid physical contact, ball games and contact games are prohibited.
Lending or borrowing toys or any personal belongings is also prohibited.
Download our poster to display in your play areas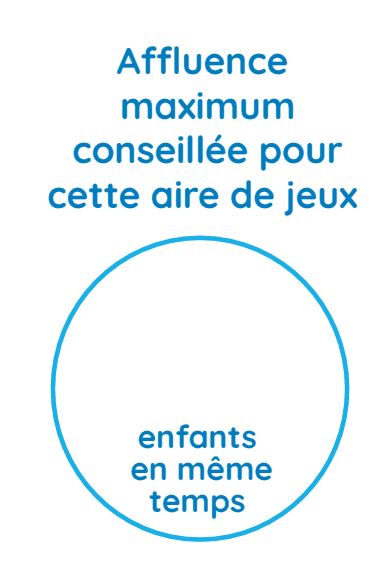 Download, print out and display our " 7 tips for safe fun " poster in your play area !
This will provide concrete, practical advice so that children can enjoy your play area with complete peace of mind.
Make sure you personalise the poster for each of your play areas : fill in the box with the maximum recommended number of children.
To help you determine the maximum number of users for your play area, we are providing you with a complete Proludic equipment list that includes the maximum number of children for each item. This is a calculation that was done specifically for the health context following the COVID-19 pandemic, taking into account safety distances.
Download the file, find the equipment in your play area, add the maximum number of children for each item together, and you will have the total number of children available for your play area.
Need help ?
We're here for you. Your usual contact person is available to help.
Unsure of who to contact ? Call us at + 33 (0)2 47 40 44 44 or write to us at proludic@proludic.fr