We all know how important green spaces are for creating stronger and healthier communities, giving children space to play and access to nature.
The Co-operative is asking their staff and members to vote between 22 June – 12 July on a cause to support over the next two years.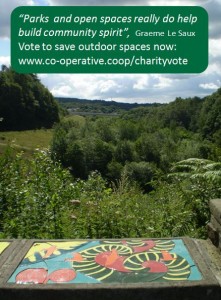 Together with Groundwork, Fields in Trust are championing green spaces across the UK so our children and communities can continue to access nature, parks and community green spaces. If we win, Groundwork will fundraise and campaign with the Co-operative to support projects across the UK, protecting and improving theses precious community spaces and mobilising thousands of people to make their neighbourhoods better places to live.
Please do spread the word – around 1 in 9 people are Co-op members so the chances are you know one in your networks!
Terms & Conditions – Voting is only for Co-op members and staff; you can vote at www.co-operative.coop/charityvote and voting is open 22 June – 12 July.