Metropolis finish
A playground with a Metropolis finish...
The future-retro Metropolis theme combines elements of modern architecture with reminders of old, fantastic machines.
Read more
Metropolis finish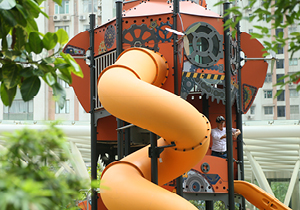 A playground with a Metropolis finish…
Metropolis is a futuristic environment that draws its inspirations from the world of science fiction. Engines, propellers, cogs and pulleys combine to create wonderful contraptions that could be straight out of the books of Jules Verne of HG Wells.
The equipment transforms into laboratories, time machines or futuristic vehicles, with a sense of movement being at the heart of the play experience.
The unique copper coloured panels combine with the sun reflections to add to the overall play experience.
Suitable for children aged 2-10.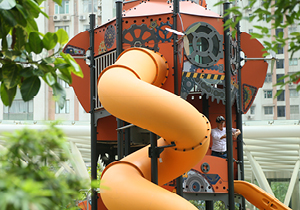 Other references
Please note all of our products are in keeping with the safety requirements EN1176 and approved by the TÜV. To view all our certifications please click
here