Article published on 15 February 2023
We all know exercise is good for us, but regularly engaging in physical activity can be a real challenge for many people. Proludic recognised this dilemma and created the ACTI'FUN solution to make outdoor exercise more fun, inclusive, and appealing to everyone. Fitness with a playful approach- ACTI'FUN is designed to inspire people to overcome the barriers that stop them from being active and get every "body" moving.
The Fitness Challenge
Countless studies present the positive benefits of fitness for our physical, mental, and social wellbeing. But despite the obvious advantages, motivating people to take action on everyday fitness activities can be a challenge. Many children, adults and seniors still fall short of the World Health Organisation recommendations for physical activity.
Whether it's time pressures, a lack of motivation, the cost of a gym membership, or accessibility issues, people often put fitness on the back-burner. The challenge is to create fun fitness activities and inspire people with physical activities they come back to again and again.
The ACTI'Fun Solution
To help people overcome many of the barriers that stop them from taking part in regular fitness activities, Proludic have developed the ACTI'FUN solution to make fitness more fun. Founded on a central fitness formula and on activating fundamental "fun-sport" motivations, ACTI'FUN combines play and sport to trigger people's interest and motivation to get active.
The Fitness Formula
We've designed each piece of equipment to meet the needs of different users and to address a range of fitness criteria. We've measured and calculated the activation of four elements of the fitness formula – muscle strength, heart health, balance, and coordination – for each model. This means that when you're designing an outdoor gym space, you can combine different ACTI'Fun units to offer a range of activities to appeal to your specific target audience.
The Fun-sport Motivations
The ACTI'FUN solution addresses seven key fun-sport motivations. Together, they help to build healthy habits, encouraging people to be physically active more often, and to overcome the obstacles to regular exercise. The fun-sport motivations include:
• The free ACTI'FUN app with instructional training videos to suit different levels of fitness
• A sound amplifying smartphone holder for music, selfies and videos
• Dynamic physical sensations experienced during use
• Gym timer sports challenges to help you reach your personal best 
• Inclusive design that makes it easy to exercise with friends and socialise
• Equipment designs adapted for diverse body types
• Equipment modules with fitness modules at different levels of difficulty enabling fitness progress 
The ACTI'FUN Ranges
There are three ranges in the ACTI'FUN solution – ACTI'Ninja, ACTI'Street and ACTI'Fit. Central to the design is their appeal to all body types, with mixed ability, intergenerational, and inclusive engagement built in. The appeal of the ACTI'FUN solution is that it's all about sharing the fun fitness experience with others, so we're more motivated to make exercise a habit.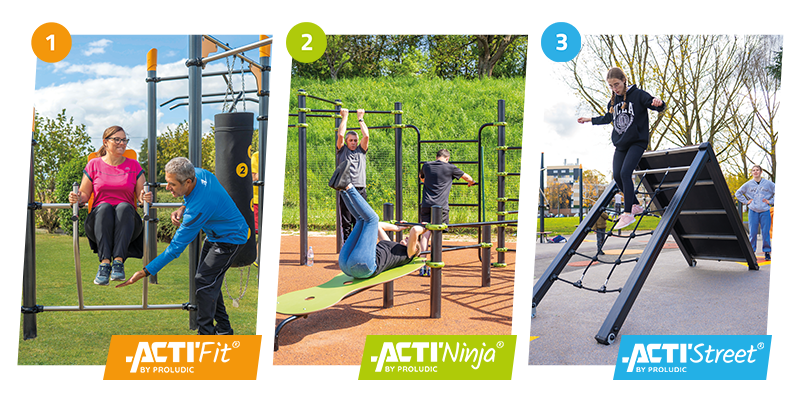 ACTI'Ninja: Obstacle course trails for users aged 6 years and over. Participants improve their physical fitness as they take on the Ninja trails, racing from one obstacle to the next as they try to beat a gym timer triggered at the starting line. They develop their strength, balance, flexibility, and endurance, and have lots of fun with friends!
ACTI'Street: High-performance exercise equipment designed in collaboration with the World Street Workout and Calisthenics Federation, suited to both amateur and professional users. The exercise modules can be combined to build your own ideal Street Workout combination, providing varying levels of difficulty and enabling people of mixed ages and abilities to use the gym sets.
ACTI'Fit: Outdoor fitness equipment inspired by facilities found in the local gym. Ergonomically optimised to provide access to all for both exercise and relaxation, they are the perfect solution for the practice of free outdoor fitness activities, either alone or with friends.
The ACTI'FUN App
The ACTI'Fun App guides users on how to correctly use the equipment, and helps them track their progress over time. By accessing QR codes placed on the equipment, users can view instructions and exercise videos, choosing the exercise that suits their ability and individual fitness targets. They can store each training session and track their activities against the stopwatch. The app is free, easy to use, and is full of information to support users of all abilities, beginner or experienced, young, or old.
Fun fitness Mode ACTI'vated!
While many are investing in community sports facilities, the challenge is to motivate people into action to use the equipment on offer. Proludic's philosophy is that making fitness a fun activity to be shared with others is fundamental to outdoor fitness equipment design and the successful provision of a fitness area embraced by the community. The ACTI'FUN solution is an innovative fitness concept that not only delivers on quality and versatility, it meets society's needs to build happier, healthier communities. 
To request a brochure or access our keeping fit catalogues digitally, click the button below!

Recent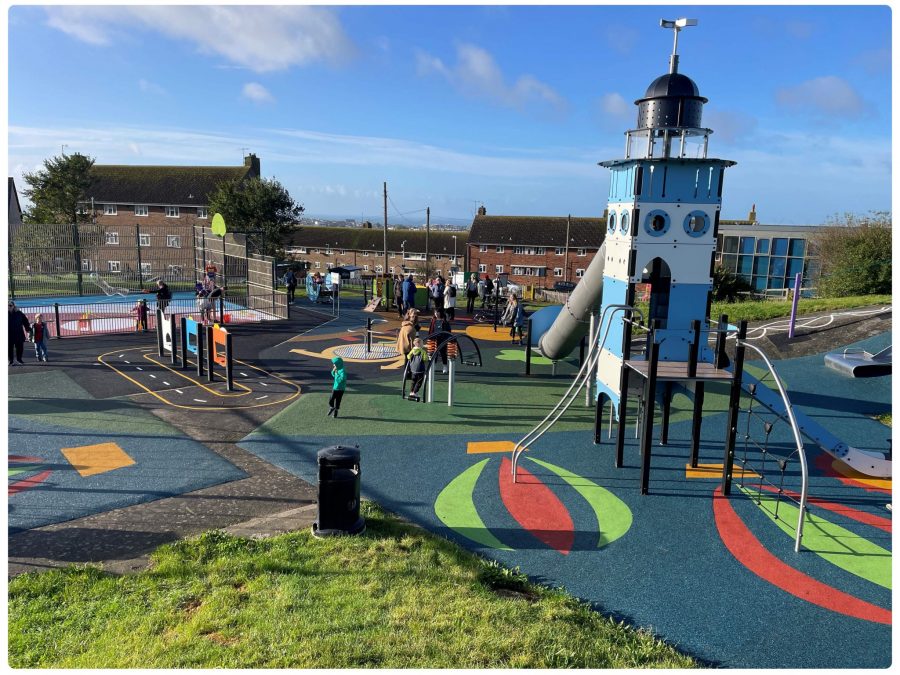 Article published on 3 November 2023
In an ambitious endeavour, Brighton & Hove City Council has unveiled the second-largest outdoor playground equipment refurbishment project in its history to the tune of £3 million pounds, with a budget of £543,000 for the redevelopment of Hollingdean Park play, Whitehawk Way and Woodingdean Central play spaces. This comprehensive initiative, in collaboration with Proludic, not...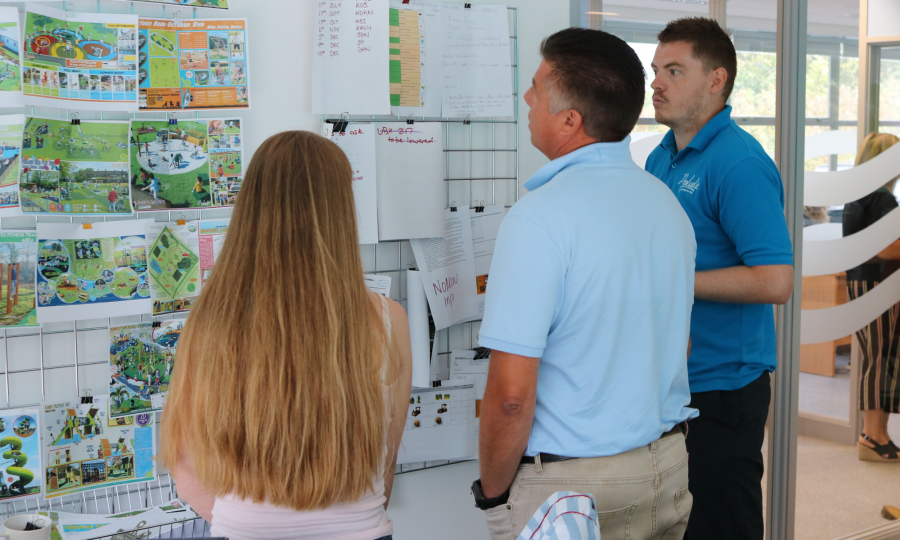 Article published on 12 October 2023
When a play equipment company receives a tender invitation, the initial instinct is to examine the scoring matrix and pose critical questions: "Is this project a suitable fit for us?" "Do we stand a chance of winning the tender?" "Does the client share our values?". Some Councils adhere to consistent scoring plans for all projects,...