Article published on 16 September 2022
At Proludic, inclusion and providing innovative inclusive play equipment is a key aspect of our philosophy because we wholeheartedly believe that all children should have access to play and the same play facilities.
We create products and designs so that the playground can be a space for everyone – a truly inclusive and accessible play space with inclusive play equipment! It is these designs that embrace inclusive play that we want to share with all of our clients.
Our latest innovations in inclusive play equipment include our J987 Inclusive Seesaw and J952 Inclusive All-Terrain Vehicle, the first of their kind in the UK! In this article, we will also be showing you our hugely popular inclusive roundabout and Multiplay unit from our Ka'Yop range. These items are designed with wheelchair users in mind so they can easily access the playground equipment, and join in the activities and socialising taking place!
Wheelchair Inclusive Seesaw – J987
A true innovation in inclusive play design, this inclusive seesaw with its unique spring system, enables 2 children using a wheelchair to enjoy a gentle, reassuring rocking movement together with up to 4 other children. Learn more about our Inclusive Seesaw.
Inclusive All-terrain Vehicle – J952 Springer
With room for up to 8 children, including one wheelchair user, this unique play structure features multiple inclusive play activities as well as an innovative sliding ramp system to facilitate direct access from the ground. Learn more about our Inclusive All-terrain Vehicle Springer.
Inclusive Wheelchair Roundabout – J2409
Proludic's accessible inclusive flush-mounted wheelchair roundabout has a large deck and room for up to two wheelchairs. There are three large supportive stainless-steel handrails and a double seating bench for children or carers to sit on. This inclusive play equipment unit is accessible for 2 years. It can accommodate up to 6 users. Learn more about our Inclusive Wheelchair Roundabout.
Inclusive Wheelchair Accessible Swing – R49-IPY-1611
The inclusive wheelchair swing is directly accessible from the ground without transfer and is a fantastic way for users to experience the thrill of swinging. This unit is accessible for 2 years old and above. It can accommodate up to 1 user at any one time with adult supervision. Learn more about our Wheelchair Accessible Swing.
Children with disabilities should be considered right from the start of any new project. Whether it be the choice of inclusive play equipment, the type of activities sought, flooring specification, access and movement within the recreational play area, access up to the play area, the use of adapted furniture, or specific signage… every aspect must be studied to ensure the success of an inclusive play area design that is accessible to as many people as possible.
---
Vannes, les Fleurs de Tohannic
A 100% inclusive playground: 750 m² of activities suitable for all abilities.
---
Do you have an inclusive play area project?
Request or view our 'Inclusive Play Areas' catalogue which illustrates our strong commitment to children with disabilities. It features appropriate solutions regarding products and facilities to ensure the play area is a space for everyone.
---
Looking for ideas? Contact us:
---
---
Recent

Article published on 3 March 2023
Every year, many new groundbreaking studies build on the body of research showing us the positive effects activity can have on physical, mental, and social wellbeing. Further underlining the importance of including physical activity as part of our daily routine throughout our lives. Additionally, it is clear from the insights that positive experiences of sports,...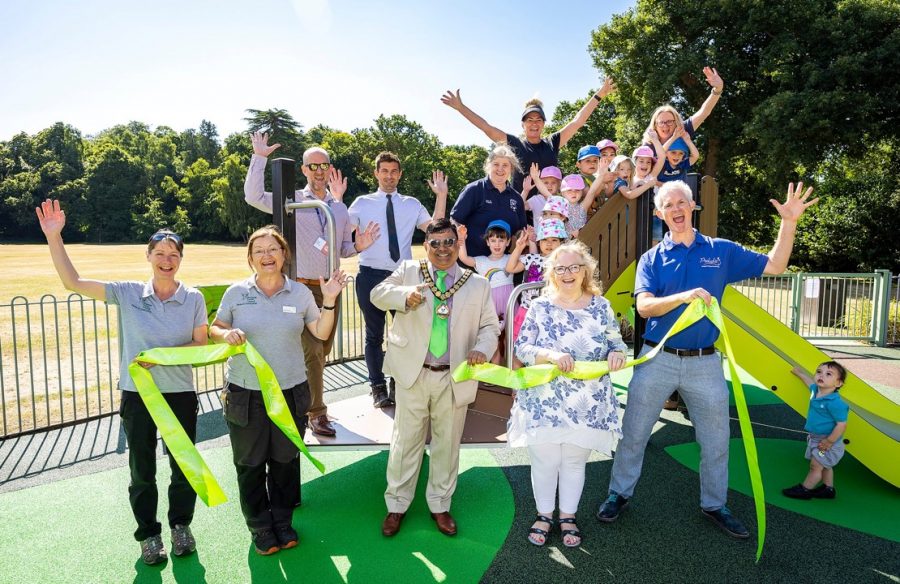 Article published on 8 February 2023
Proludic is back in 2023 with plenty of new inspirations to share! This year we have introduced 30 new exclusive products to assist in taking your new play and sports areas to the next level. Within our new, diverse 300-page catalogue we have crammed over 30 years of dedication and passion for delivering exceptional play...