Article published on 3 April 2018
At Proludic we love to raise money for charitable causes and the RAF Benevolent Fund is one such cause that is very close to our hearts.
We have worked with the RAF Benevolent Fund for the last five years and through this close partnership have been privileged to deliver many amazing playgrounds and outdoor sports activity spaces on their behalf.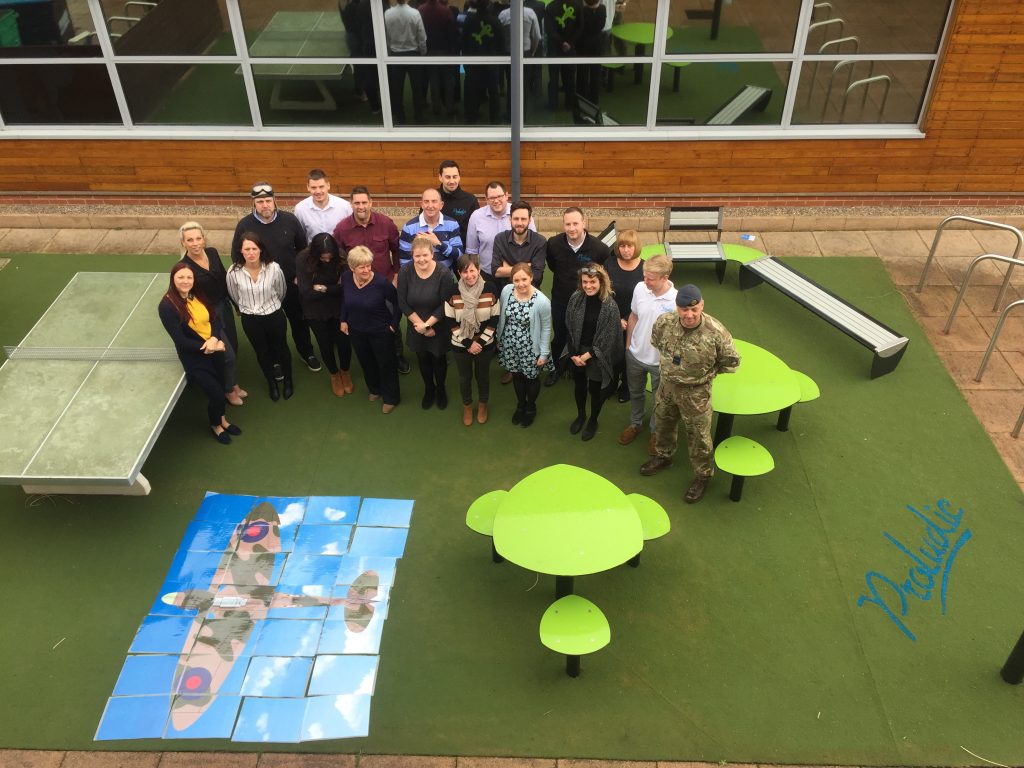 So, when we heard that the RAF was marking its centenary anniversary this Sunday, April 1st we felt compelled to remember their achievements in our own special Proludic way. With help from Mark Bisset from the RAFBF Pipes and Drums (also known as the #SpicyPiper), we recreated an image of a Spitfire flying through the clouds at our head office, The Play Hub, in Nottinghamshire. All staff got involved to raise the image above our heads and in doing so we commemorated, celebrated and were inspired by the RAF's achievements.
Mark, a serving member of the RAuxAF at Brize Norton, then fired up his bagpipes and played songs from his repertoire to entertain us all and further mark this 100-year occasion. We raised £220 on the day of the event and this was presented to Mark to go towards the RAF Benevolent Fund activities.
Recent
Article published on 17 June 2022
A new play area has opened in Wallyford in East Lothian near the new local primary school and has already proved to be a very popular attraction with local children. The project is the result of a collaboration between Proludic who designed and supplied the play equipment and East Lothian Council as installers. The play...
Article published on 6 June 2022
June 6th marks a special date in Nottingham-based play equipment provider Proludic Ltd's calendar. On this day in 2002, the UK subsidiary was officially formed to sell Proludic manufactured play and sports equipment into this new market as part of the group's strategy to expand its direct representation globally. Initially, the offices were based in...