City: Gunnedah (Australia)
Location : Wolseley Park
Inauguration: December 2019
The project to create an inclusive play area in Wolseley Park was driven by a local mother of a child with autism. In 2013, she started a petition to address the lack of inclusive play facilities in Gunnedah. In response to her initiative, Gunnedah Shire Council decided to create a playground championing the values of "play experiences for everyone", which are also shared by Proludic.
Once the playground design had been given the green light by council officials, Stewart Surveys (architectural and landscaping consultancy) began working alongside Proludic in designing all the inclusive equipment and bespoke play structures for the playground.
The large Koala Tower, the only one of its kind in Australia
The playground's main feature is a large adventure-themed play tower, the first of its kind in Australia. Nestled among the trees is the "Koala Adventure Tower", which stands over 7 metres tall. Proludic's Grafic Games personalisation technique has been used to apply koala graphics to the structure's panels and showcase Gunnedah's wildlife and its status as the "koala capital of the world".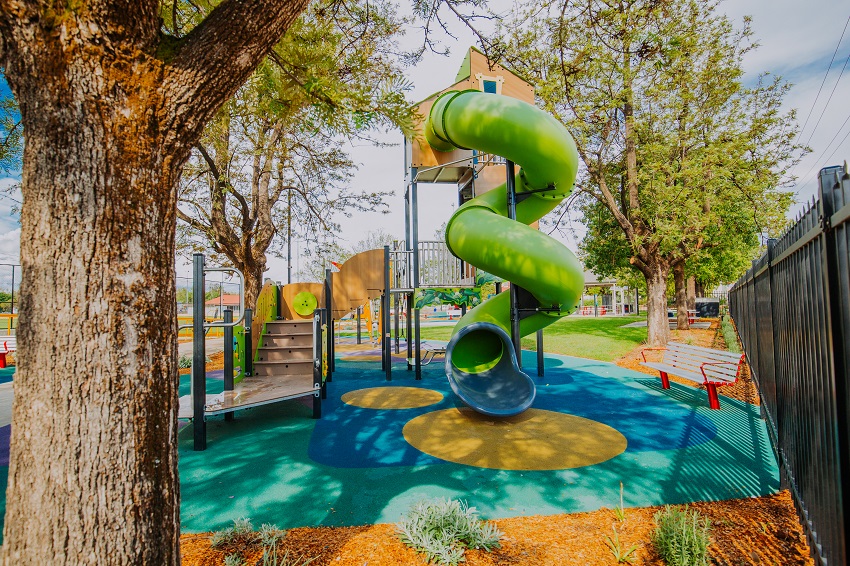 The large tower is designed for 2 to 12-year-olds and offers an extensive combination of physical and interactive play activities:
A towering tube slide allows children to experience new sliding sensations
A play table and benches for taking a breather or enjoying slower-paced activities
An access path with wide steps and a handrail enables children aged 2 and above to safely access the tower.
A transfer platform provides children of reduced mobility with easy access to the play panels and thereby allows them to play with other children.
A recycling-inspired play zone
The nearby inclusive Recycling Truck (J2684) is not only designed as a fun space, but emphasises the importance of recycling and environmental responsibility.
An access ramp and large space inside allow children in wheelchairs to take part. Several access points have also been included to make it easier for carers to assist.
The Recycling Truck boasts an extensive range of play activities, including climbing, sliding, balancing, manipulation play, observation and thinking skills.
Several educational play panels on a recycling theme can be found inside and outside the playground equipment.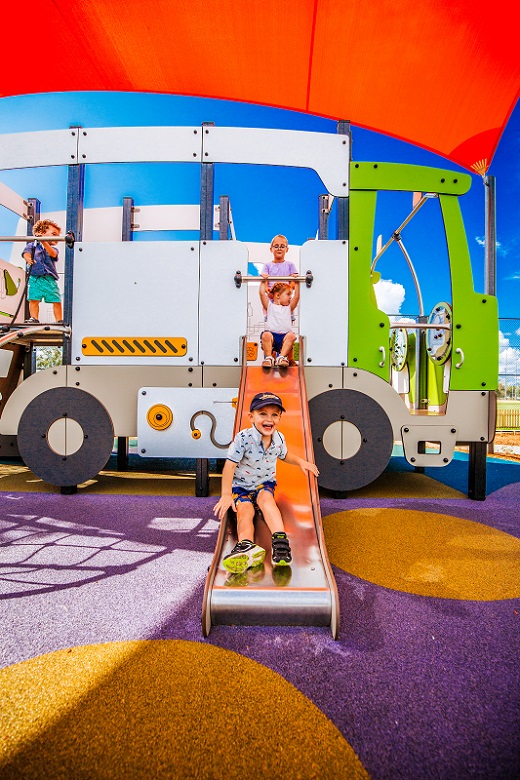 There are many other items of inclusive play equipment in the playground: