City: Vannes
Location : Les Fleurs de Tohannic Play Area – Etang de Tohannic
Year: 2019
The city of Vannes situated in southern Brittany (France) wanted an inclusive play area on the Etang de Tohannic site.
Designed and developed by Proludic, the project makes Vannes the first city in Brittany to install a playground on such a scale and which is accessible to all, with a 750-m² surface area, 30 items of play equipment and 50 fun activities suited to children with motor, hearing, sight or intellectual impairments.
Three spaces for three age groups
The playground comprises three spaces set around a central hub that can easily be seen with its 3.60 m-high flowers. Their plexiglass petals create light effects when the sun is shining. The flowers serve as a meeting place and a point from where children and accompanying adults can enjoy a 360° view over the entire playground.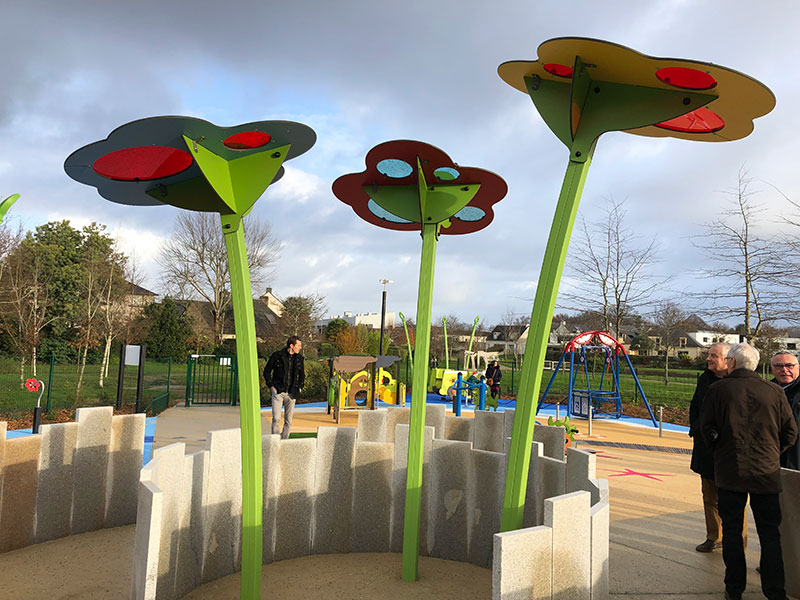 For young children: the Sea space
This space offers several ground-based types of equipment, such as playhouses, springers, play panels and disability-friendly swings.
The playhouses have been designed with wide entrances, supportive elements and internal dimensions large enough for children in a wheelchair to move about easily. The playhouses represent a real refuge for children needing to be alone and observe their surroundings in peace and quiet.
Three types of springer are available: a version for two users, a single-user version with a backrest and side panels to provide good body support for children with reduced motor skills, and a 10-seater structure mounted on three large springs with a wide platform that is close to the ground for easily transferring children in wheelchairs.
Two swings suitable for individuals with reduced mobility, offering wheelchair users easy and independent access to a shared play item.
For the middle age group: the Earth space
The showstopper for this space is the Diabolo multi-play structure with a combination of platforms, access points and various play accessories.
Accessibility for children with reduced motor skills is improved by the presence of a ramp, low floors and safe steps. The play activities, which are located inside and outside the structure, help develop motor skills, fine motor skills and cognitive abilities, while also providing sensory stimulation. There are multiple easy-access entrances so that accompanying persons can share and encourage play activities or intervene quickly if needed.
The Earth space also features audio play items, springers, play panels and trampolines, making it the ideal place for interaction and dialogue where children can learn to work and play together.
The Musical Flowers are for everyone to enjoy, regardless of disability. Each flower comprises two parts in bright complementary colours. Each flower emits a specific sound when the central part is rotated. The engraved graphics provide added tactile stimulation, and the rounded shape of the stems improves suitability for wheelchair users.
The ground-level trampolines ensure easy access for children in wheelchairs with a helping hand from a carer or playmate, so that they too can gently experience the sensation of bouncing.
The play panels include various tactile activities requiring observation, concentration and eye-hand coordination. The floor-level components are perfectly suitable for children with reduced motor skills.
For older children: the Sky space
A large 87-m² Kanopé multi-play structure occupies the play space, where children can climb in every direction, clamber up and down the many different-shaped rope structures and whizz down a slide or fireman's pole. The Japanese steps have a long net that runs alongside, so that children can hold on and keep their balance in order to cross safely.
The Twiny car is a themed play item that several users can share and offers direct rear access for children in wheelchairs.
Mounted on two large springs, the Double Spring Perch requires a certain level of coordination by two children to create the rocking motion. Children can stand or sit, depending on their abilities and mood.
Each space features a Light-It-Up sound and light play item.
The aim is simple: turn a crank handle – easily accessible on the lower section of a pole over 4 m tall – causing the LEDs to light up and music to play, and then get to the top as fast as possible. A super challenging play item!
To encourage interaction between children of different ages, two tubophones (sound amplifying tubes) connect each space. Positioned 25 metres apart and partly buried, these tubes enable children to communicate without having to shout.
Sensory Trail
Crossing through all the spaces in the playground and thereby encouraging interaction between different age groups, this 1 metre-wide fun circuit is easy to follow for children with visual impairments or reduced motor skills and their accompanying adults.
The type of trail surfacing varies along the way, with artificial grass, pebbles, Japanese steps made from logs, cobblestones, roughened concrete and a soft section. Children can experience different touch sensations with each material.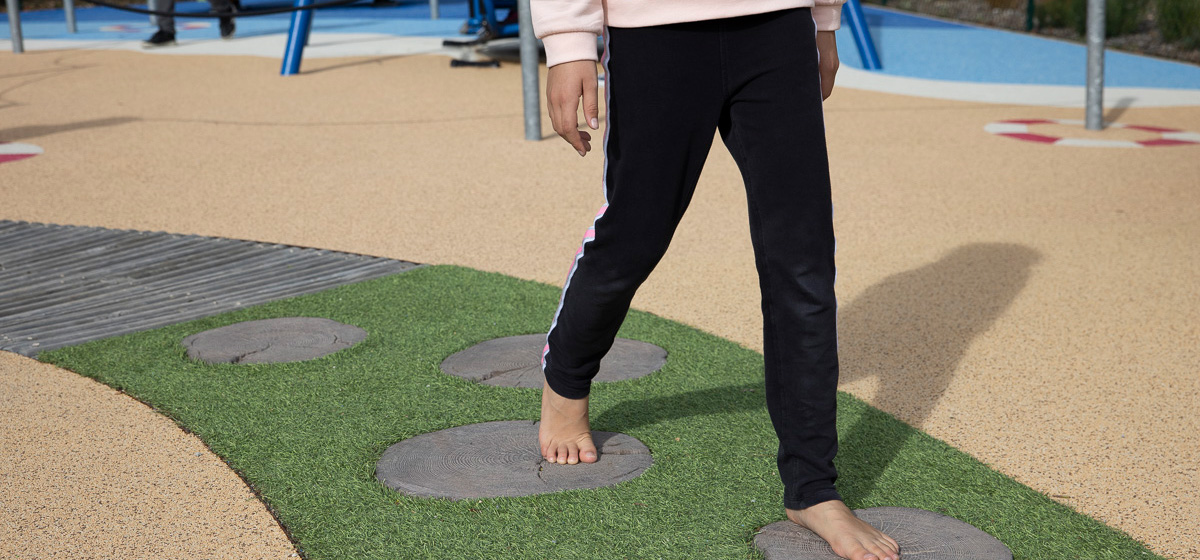 Surfacing
Surfacing was an integral aspect of the design process and involves much more than simply having attractive play surfaces. It is important in terms of facilitating movement around the playground and identifying the various play elements.
The whole of the play area has soft surfacing apart from the sensory trail. The themed decor, contrasting colours and raised zones help define the three play spaces as well as immerse children in an imaginary world, such as the representation of a beach for the Sea space, flowers for the Earth space and clouds for the Sky space.
Signage and furniture
All the signs in the playground are in Braille or sign language to ensure that hearing-impaired users can fully understand the instructions.
The Tohannic playground also has benches and picnic tables accessible to individuals with reduced mobility and where families can spend time together.