Article published on 28 September 2023
Lake Meadows in Billericay and Northlands in Basildon have recently witnessed a remarkable transformation with the introduction of the new Proludic play and activity equipment across both parks. These innovative additions have released new life into these already cherished flagship community play spaces, further enriching the leisure experiences for residents and visitors alike.
The new installations cater to toddlers, juniors and teens, creating an inclusive environment for families to bond, friends to socialise and individuals to pursue their fitness goals in the activity and sports space. Both these installations underscore the commitment of Basildon Council to further enrich the lives of their residents by providing accessible, innovative, and engaging recreational spaces. Whether you seek a peaceful retreat amidst nature or an energetic workout session, both these spaces promise a vibrant and fulfilling experience for all ages and abilities.
Northlands Play & Activity Area
Proludic clinched the project by securing the community's preference from a collection of five play designs. What set Proludic apart was their visionary concept, boasting a wide array of 40 novel play elements, many of which are inclusive, all designed to accommodate more than 200 users simultaneously.
Having visited the new play area at Northlands Park – I know how much fun will be had their by our residents…..With the addition of the ball games area too – as well as regular Park play and ATF activities – there are so many different ways that our borough's youngsters can now play at Northlands.

Paul Brace, Director of Community and Environment (Basildon Council)
Proludic's design philosophy and colour choice harmonised seamlessly with the park's natural surroundings, leveraging the serene fishing lake as a picturesque backdrop. The final design skilfully integrated this tranquil theme into the play area, introducing bespoke elements like an eye-catching tugboat and an awe-inspiring 4-meter-high Tree House.
Furthermore, Proludic resolutely followed the client brief ensuring inclusivity, catering to individuals of all ages and abilities. The equipment choices were carefully thought out to be accessible, with standout features like an inclusive inground trampoline, responding to the client's vision of an inclusive and unique play experience for all.

Lake Meadows Play Area
Basildon Council tendered for the refurbishment of one of their stunning play area sites – Lake Meadows Play Area. The design of the playground aimed to incorporate a well-known story about a Wizard and Dragon that lived on Lake Meadows created by the local Friends of Group. The equipment and design brought this magical story to life within the area bringing imagination and creativity to the area.
The rejuvenated space now offers a fully flush accessible safety surfacing allowing all users to access all equipment. We've also added lots of new playground equipment, featuring a bespoke twin castle multiplay unit standing at 4 meters tall, an inclusive seesaw (J987) and an ACTI'Ninja aerial crossing with Sky Rail (J5913) to name a few! Make your way across the playground while learning about 'The Wizard, the Dragon and the Lost Eggs' – the question is can you find all the eggs?
Proludic are a great team to work with, the communication is great and the aftercare service is always the best.

Rob Baker, Parks and Countryside Operations Manager (Basildon Council)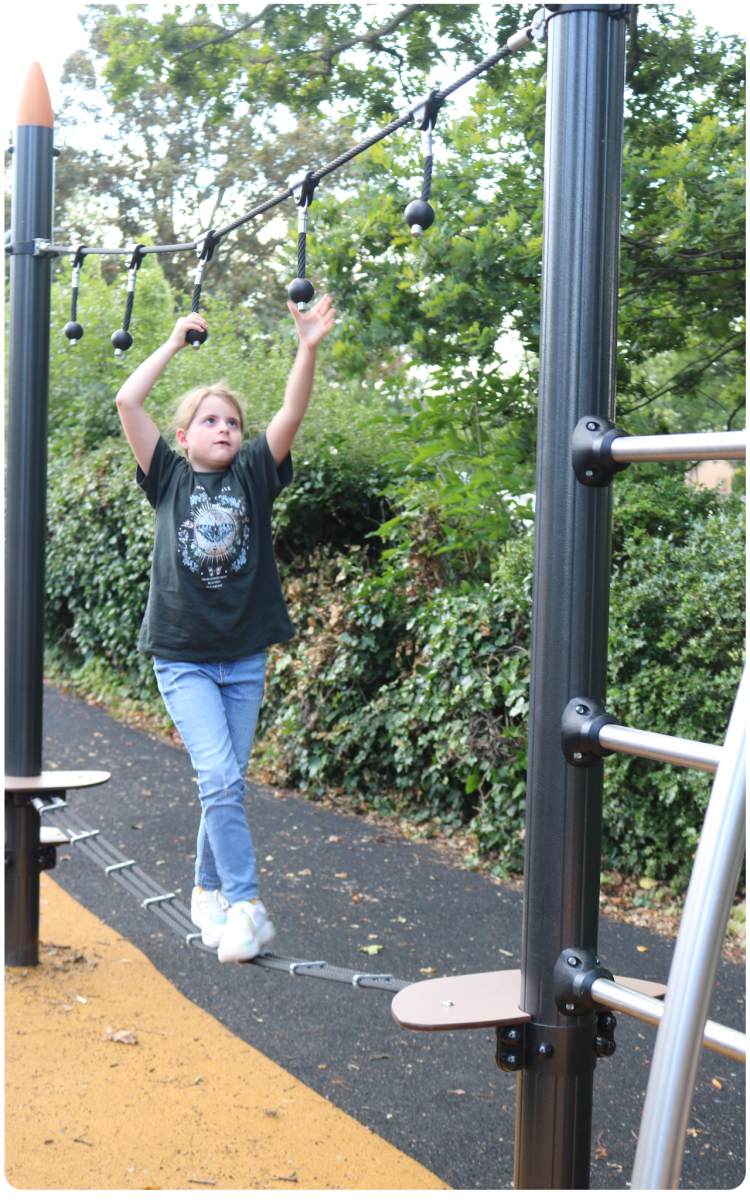 Celebrating with the Community
To ensure both playgrounds were well received and opened with an added touch of excitement, Proludic organised an opening event for both Lake Meadows and Northlands playgrounds. Children, parents and families were invited to join us and Basildon Council for a ribbon cutting ceremony, unleashing a stampede of jubilant young adventurers into the spaces!
For more playground inspiration and details on products, ranges and more, click here.