Article published on 13 October 2016
Proludic installs a great new playground for all ages and abilities in France! The 'Playground for all' features 5 different play spaces to meet all age groups and abilities. Installed in the Mêle-sur-Sarthe (Orne, in France), it was opened on September 2nd and financed by the municipality of Valley of the Haute-Sarthe. This vast...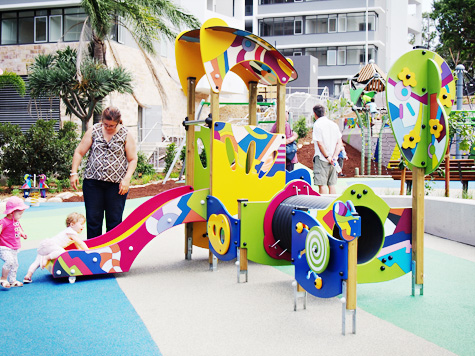 Article published on 4 February 2016
Hughes Park, Lane Cove, NSW Hughes Park at Lane Cove in Australia provides a variety of innovative play equipment for children of all ages and the young at heart. Designed by Lane Cove Council's landscape architects in collaboration with our Australian subsidiary Proludic PTY Ltd, the park also includes a braille walk, fitness equipment and...
Article published on 25 November 2015
Client: Town of Getafe Budget: €260,150 Client objectives: Develop a unique, inclusive and landmark play area based on a copy of the C212 plane (on a 1:1 scale). Concept: Getafe is famous for a deep-rooted history in aeronautics – in particular the production and first flight of a cargo airline (C212). Bespoke design: Creation of a play...