Ixo
Talking the language of the pre-teens
With its smooth lines and contemporary design, IXO is equally at home in rural or urban settings. The wide variety of testing elements gives it widespread, long lasting appeal for junior users in any playground.
Read more
Ixo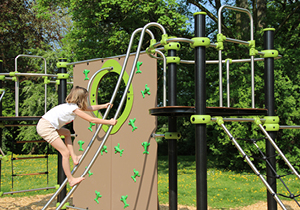 Ixo – Talking the language of juniors
The IXO range has been designed with juniors in mind and has many challenging components to it that will keep children stimulated.
The Ixo range is iconic in its design, taking its inspiration from modern architecture, the design of the equipment has clean lines and transparent structures.
Ixo is available in two styles, wooden posts and metal posts. This makes Ixo a great multiplay item of equipment for either natural or urban settings.
Start the photo gallery